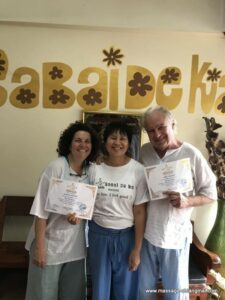 One of the hardships of being a massage therapist and receiving massages is the difficulty of finding a great therapist. There is a big difference between intentional touch and "just being rubbed", as one of my massage friends likes to say.
I'm constantly trying to improve my touch awareness. And trying to feel how the muscle, the body and the energy responds to touch.
Practicing intentional touch in my own work, makes me acutely aware of how it feels to have someone not adjust pressure or just endlessly bump over a knot in a muscle.
I've received a good share of "being rubbed" in Asia, and in the US. Since Thai massage is very common, (there were literally rows of massage studios on every street we visited) it was not unusual to see a therapist giving a massage while chatting on her phone or talking to another therapist. When deciding on where to go, my trick is usually to selfishly send John first and get a review from him.
After receiving an awesome Thai massage (on John's recommendation) from Sae at Friends Massage, in Chiang Mai, we decided to take a three day class. We did our research and found a reputable, well reviewed school called, Sabai De Ka.
Our teacher, Na, was delightful and abundant with both humor and knowledge about her craft. The first thing she did was apologize for her English, which I assured her was 99.9% better than my Thai.
Thai massage is performed over loose clothing and involves a lot more stretches and compressions rather than the long strokes of the Swedish technique. It has been used for centuries and was originally taught in the temples. There is no oil used other than the occasional salve for a tight muscle.
The course covered all the techniques for a full Thai Massage, but adapted for a table, since traditionally it is done on a mat on the floor. We wanted to be able to integrate it with our other types of massage, so we opted for the table course.
I really like how Thai massage encourages the therapist to use her whole body to improve stretches. It's not unusual to use a foot for better leverage for a stretch. Since it uses a lot of stretches, a therapist needs to listen to the body and the client to make sure the stretch is just right. The wonderful massage I received from Sae, at Friends Massage, used experienced intuitive touch to not overstretch my wonky shoulders. Even with a huge language barrier, she was able to feel when a stretch was a little too intense and she easily adapted.
Our teacher, Na, also had to be intuitive about our techniques, constantly helping us to adapt and change for our clients.  A phrase that I heard regularly was, "You no flexible. You go like this" and then she would teach us some adaptation to the technique.
Thai massage involves lots of repetition, so we were taught to use 10-30 repetitions of a particular move. Of course, we had limited time, so sometimes, when we worked on each other, we would shorten the repetitions considerably, which was typically accompanied with my favorite line of all time, "Mr. JOHN, your wife have great body, you no cheat her!" I can assure you that John will be hearing that phrase for a long time to come!
All together, we learned enough techniques to give a 4 hour Thai massage. We obviously have many hours of practice ahead to master these new techniques, but we are both excited about integrating lots of these techniques into our practice and offering our most authentic Thai Massage when we return home.
Keep an eye out at our website for this new offering. We hope to be ready to offer full Thai Massage sessions soon.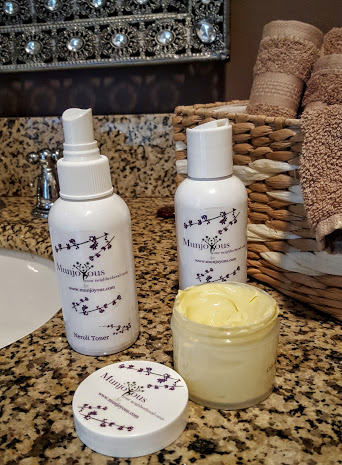 Oh products! When I started practicing aesthetics, I was bombarded with products.  The first aesthetics show I went to was saturated with hundreds of different products, all promising to perform miracles. I was seduced a few times by expensive products, but I remembered what one of my favorite teachers told me. She said that half of the expense for some of the popular products we see is spent on all the promotional rigging that gets it out there and sells it. I asked her about a particular popular product I had seen at the malls.  She said, "You know, what you're really paying for is all those displays you see!" This got me thinking about packaging.
Then I started selling products and I saw my clients sink a little when they learned the price of a product I recommended to them. I get it. It's hard when you've finally made the decision to take care of your skin and you're ready to invest in your face, but the cost is so prohibitive that it is discouraging. Going home with an ounce of moisturizer that cost you $75 is a tough way to start your new relationship with your face.
I've also had some insights about products too. I knew that artificial scents and additives are a no-no and I'm growing to understand words like peptide, stem cell, botanical and antioxidant. Although, I still call my sister the chemist to explain them to me.
When we started "
Munjoyous…Your Neighborhood Oasis
" in our little Portland neighborhood in Maine, I wanted to find a product that wasn't crazy expensive, but had quality ingredients and good science behind it.
So I'm really excited about our new product.
Prima Fleur
is the name of the company that makes it and they have a wonderful philosophy and history. They have been around for 20 years and they are sincerely concerned about the environment. All of their products are naturally scented with essential oils and hydrosols. I love the Calendula Hydro Boost moisturizer that we now carry and the ever so gentle exfoliating Combava Scrub is delightful. I can keep the price down by packaging it myself too. So you aren't paying for the package, just the product.
Check out their great website (http://www.primafleur.com/about.php) and see if their philosophy resonates with yours. It did with mine…and the prices did too.