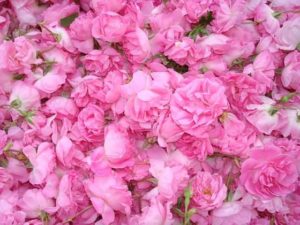 Exfoliation. We are constantly building up dead skin cells. That build up leaves our skin looking dull and lifeless. So, exfoliation is your skin's best friend.
Except….not all scrubs are created equal. Scrubs have tiny little particles that scrub away dead cells as you wash your face. Unfortunately, some scrubs are made by crushing up seed shells or other substances that can have rough edges. When you scrub your face with them, they create tiny microscopic tears in your skin which allow for bacteria to move in, making the problem your trying to fix even worse.
Some scrubs use tiny little plastic particles. These are not so bad for your skin, but they never dissolve and get into our water supplies. They have actually found the little particles in fish and other swimming creatures.
I love our new Rose Face Polish. A unique powdered exfoliant that turns any cleanser into a gentle scrub. It's combination of fine sugar and rose kaolin clay detoxifies and works as a delicate polisher without tearing or irritating the skin. The sugar, galactoarabinan, a natural polysaccharide, is extracted from North American larch trees that have already been harvested. It offers exfoliating benefits and leaves the skin smooth and radiant. This really enhances any make-up application.
This face polish is a great, once a week exfoliation that doesn't tear or scrape your skin. Just create a paste with equal halves of your cleanser and the rose powder and gently massage it into a slightly damp face. Organic essential oils of Bulgarian rose and Malagasy ylang ylang stimulate, soothe, and contribute an intoxicating scent. Rinse immediately or leave on as a mask for five minutes.
Munjoyous…Your Neighborhood Oasis has "Rose Face Polish" for $10 for a 4 ounce container. Ask for a sample during your next visit to us. Call 207-956-7780 or email [email protected] for an appointment today.