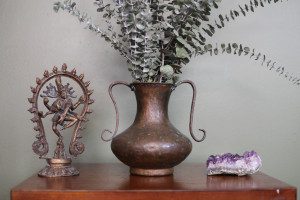 One of my pet peeves about visiting a spa is what I call the "beauty gauntlet". I know we're supposed to go there to relax and feel good, but I have built up a resistance to the process of getting there and leaving. Some folks look great after a massage or facial. They have that perfect hair that looks a little sexy when it's mussed up. But I have the kind of hair that turns to a Brillo pad after an hour or so on the table. And after that awesome head massage…bam…the only glam star I resemble is Side Show Bob from "The Simpsons".
I dislike that right around the foot massage (my favorite part) I'm distracted by the fact that I'm still trying to plot out my escape route past the product display and the waiting room filled with perfectly "un-mussed" clients.
Going to a spa should be a fully relaxing experience. I don't want to run through the spa "beauty gauntlet". I want to enter privately and leave even more privately. I want the experience to be between me and my trusted therapist and perhaps a supportive friend. This was what I envisioned when we were starting "Munjoyous…Your Neighborhood Oasis". Folks can show up just as they are and have a comfortable experience with just the plain old Pitchers.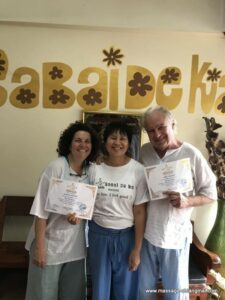 One of the hardships of being a massage therapist and receiving massages is the difficulty of finding a great therapist. There is a big difference between intentional touch and "just being rubbed", as one of my massage friends likes to say.
I'm constantly trying to improve my touch awareness. And trying to feel how the muscle, the body and the energy responds to touch.
Practicing intentional touch in my own work, makes me acutely aware of how it feels to have someone not adjust pressure or just endlessly bump over a knot in a muscle.
I've received a good share of "being rubbed" in Asia, and in the US. Since Thai massage is very common, (there were literally rows of massage studios on every street we visited) it was not unusual to see a therapist giving a massage while chatting on her phone or talking to another therapist. When deciding on where to go, my trick is usually to selfishly send John first and get a review from him.
After receiving an awesome Thai massage (on John's recommendation) from Sae at Friends Massage, in Chiang Mai, we decided to take a three day class. We did our research and found a reputable, well reviewed school called, Sabai De Ka.
Our teacher, Na, was delightful and abundant with both humor and knowledge about her craft. The first thing she did was apologize for her English, which I assured her was 99.9% better than my Thai.
Thai massage is performed over loose clothing and involves a lot more stretches and compressions rather than the long strokes of the Swedish technique. It has been used for centuries and was originally taught in the temples. There is no oil used other than the occasional salve for a tight muscle.
The course covered all the techniques for a full Thai Massage, but adapted for a table, since traditionally it is done on a mat on the floor. We wanted to be able to integrate it with our other types of massage, so we opted for the table course.
I really like how Thai massage encourages the therapist to use her whole body to improve stretches. It's not unusual to use a foot for better leverage for a stretch. Since it uses a lot of stretches, a therapist needs to listen to the body and the client to make sure the stretch is just right. The wonderful massage I received from Sae, at Friends Massage, used experienced intuitive touch to not overstretch my wonky shoulders. Even with a huge language barrier, she was able to feel when a stretch was a little too intense and she easily adapted.
Our teacher, Na, also had to be intuitive about our techniques, constantly helping us to adapt and change for our clients.  A phrase that I heard regularly was, "You no flexible. You go like this" and then she would teach us some adaptation to the technique.
Thai massage involves lots of repetition, so we were taught to use 10-30 repetitions of a particular move. Of course, we had limited time, so sometimes, when we worked on each other, we would shorten the repetitions considerably, which was typically accompanied with my favorite line of all time, "Mr. JOHN, your wife have great body, you no cheat her!" I can assure you that John will be hearing that phrase for a long time to come!
All together, we learned enough techniques to give a 4 hour Thai massage. We obviously have many hours of practice ahead to master these new techniques, but we are both excited about integrating lots of these techniques into our practice and offering our most authentic Thai Massage when we return home.
Keep an eye out at our website for this new offering. We hope to be ready to offer full Thai Massage sessions soon.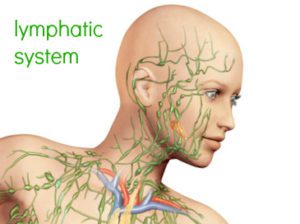 Tired of puffiness? Wondering what is going on when some days you wake up and your face is dull and puffy and other days you look great?
Lymph is what is going on. Our bodies use lymph to remove waste. Waste products are carried away from the tissues and back to the heart where they are then sent to the kidneys and liver for detoxification.
Lymph doesn't move by itself. It depends on the movement and contractions of muscles to circulate through the body. That's why the lymphatic drainage massage in the detoxifying Munjoyous facial is such a rich part of the treatment. This gentle pressure moves lymph toward the lymph nodes so that it can be balanced.
The Detoxifying Munjoyous Facial includes:
A deep cleanse that includes a facial steam with detoxifying herbs including ginger root, rosemary, allspice, eucalyptus and cloves.

A gentle enzyme peel.

A lymphatic neck, shoulder and face massage using a lymphatic detoxifying seaweed gel.

An acupressure point facial massage using detoxifying ayurvedic oils

Finally a rich purified clay mask is applied while you receive a mini-reflexology foot massage.
This healing treatment will leave you glowing both inside and out!
BOOK NOW!  Or get more details. . [email protected]